This article contains step-by-step instructions on how to set up HeavyM on your computer and advice on hardware configuration.

Required configuration
HeavyM is compatible with both Mac OS X and Windows. You can visit this page to check if your computer fits the system requirements. We insist but, as advised in the requirements, we don't recommend using integrated graphics cards and especially Intel HD models.
In addition, please make sure your card drivers are up to date!
In any case, if you're unsure about the capacity of your computer, the best solution is to try the software first. That's why you can always download HeavyM Demo, even with no license, with only a few limitations. It is the perfect way to discover the possibilities and try out your hardware before buying!
Note: no internet is needed to use HeavyM Demo. For licensed editions, a connection is sometimes needed.
Choosing an offer
Although HeavyM Demo enables you to try out the potential of the software for free, you need a license to use HeavyM in production. The software comes in different editions, so you have to choose which type of license to buy. For each offer, there are also different subscription plans, so check out the pricing page to discover all the features and services and find the one that suits you best!
Downloading the software
HeavyM doesn't come with an installation disc, it is license-based and there is an installation file that you need to get from our website.
If you have already bought a license, you can download HeavyM from your license manager directly. Your license key is required to access it. There, you'll find the latest download for the software, as well as the latest update your license gives you access to. You will also find all the information related to your license in this space.
But, as mentioned before, you don't need to buy a paid license to try out HeavyM, you can get HeavyM Demo for free. To try the latest version, follow this link. You'll only need to provide us with an email address. (Don't worry, we just need it to send you the download link, we'll never share it!)
Note: from version 2.5.0, there is one installer for HeavyM Demo and a different one for HeavyM Live/Pro. Make sure you get the correct one, as described in the previous paragraphs!
Installing the software
Setup
Locate and double-click on the .exe (or .dmg) file you just downloaded. (It will usually be in your "Downloads" folder.)
A dialog box will appear, just follow the instructions in order to install the software.
If you have trouble installing the software, it might be because your antivirus is blocking it. If you can't bypass the prohibition, try deactivating your protection while you install HeavyM.
But don't worry, it's not because HeavyM is unsafe! This can happen because some antivirus block programs that are unknown in their database. Once a software has been opened and declared as safe by a sufficient number of people, antivirus won't forbid it anymore. Consequently, this will happen if a new version of HeavyM is released and you're one of the first users to install it.
Note: if your antivirus is Windows Defender, you can bypass the block by clicking on More info → Run anyway when the "Windows protected your PC" appears.

Launching HeavyM and registering
Note: if you are using HeavyM Demo, you only need to click on "Start HeavyM Demo" at startup to use the software. If you have installed HeavyM Demo but wish to register a license, please download the installer for your version from your license manager first.
First, launch HeavyM. On Windows, if nothing happens when you try to open HeavyM, try to launch it as admin by right-clicking on the icon or start menu item and selecting "Run as administrator".
Then, if you already have a valid linked license on your machine, the software will just start normally. Otherwise, you'll see the following windows and will need to register your license key first (sent by email at the time of purchase). Note: please use the "Lost key?" button to recover your key by email if you've lost it.

You'll need an internet connection at this step. This process will link the license to the computer and thus use one seat. You can consult the list of linked devices and see how many seats you have on your license manager.
Note: if you get an error message at this step, please read this article.
Once you have pasted your license key, click on "Activate" and you should be good to go!
Note: if you wish to switch to another license on this computer later, please first unlink the current one from the software (Help → Unlink your License...), then restart HeavyM. More info in this article.

Updates
You don't need to release your license before installing a HeavyM update on the same computer.
Updates are checked automatically and you can get them directly from the software. If a new version is available, you'll be notified of the release notes when you open HeavyM.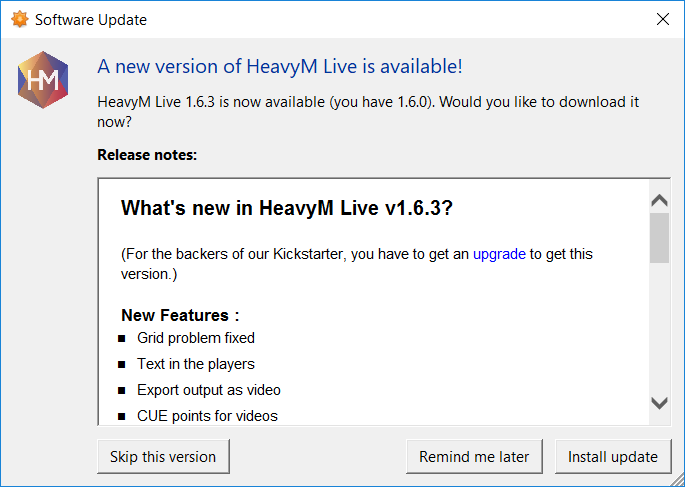 This window will appear, prompting you to decide if you want to install the new version now, be reminded the next time you open HeavyM, or skip this version.
If you select "Install update", the setup file for the latest version will be downloaded and you'll be able to start the installation process. If you install HeavyM 2, it will not overwrite previous HeavyM 1 versions already installed on your computer.
On the other hand, if you select "Skip this version", you can still change your choice later by going to Help → Check for Updates... in the software. You can also download the latest version from your license manager.
Note: if you are trying to update from HeavyM 2.4.1 (or below) to HeavyM 2.5.0 (and up), the installation process won't be automatic, you'll be redirected to the HeavyM website to download the installer.
Note: for the moment, if you want to download an older version of HeavyM than 1.11.5, you can contact us.